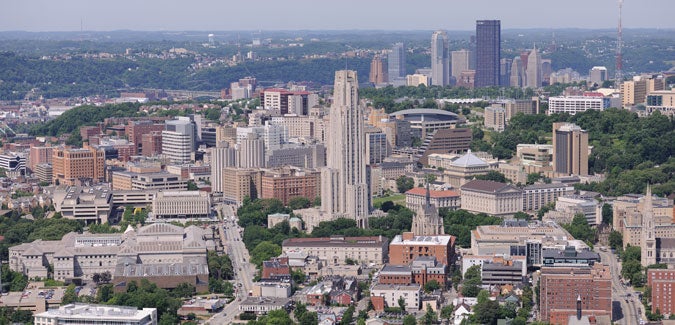 The University of Pittsburgh's development has always been intertwined with the city's, never more so than today.
The Pittsburgh Academy (as Pitt originally was called) was founded in 1787, just 29 years after Pittsburgh got its name. Originally a village around the frontier outpost of Fort Pitt, Pittsburgh grew into an industrial powerhouse during the 19th and 20th centuries—powered, in part, by the ingenuity of generations of Pitt graduates.
Pitt moved to its current home in the neighborhood of Oakland in 1908. Twenty-three years later, the first classes were held in the Cathedral of Learning, still an iconic fixture of the city's skyline.
In recent decades, Pittsburgh the Steel City has remade itself into a global innovation hub built around a booming "eds & meds" economy—with Pitt and the affiliated University of Pittsburgh Medical Center among its leading institutions.
Pitt's hometown has repeatedly been ranked among the nation's most livable cities. Whether you're coming here as a graduate student, a postdoc, a member of the faculty or in another role, you'll find a diverse and friendly city where higher education is valued and thriving.